This Page has Information on Our Fall 2020 Breeding, Our Placement Policy & Our Prepared Puppy Training Programs that Prepare Them for Their Forever Homes and Later to Get Them a Good Start for their First Hunting Season.
The Puppy Pre-School and Start-Up Summer Camp
This is a very long page with important information and pictures about our puppy training program and the pedigree of this litter. Please scroll all the way to the bottom to learn as much as possible about what we do.
Asher shares all of the biddability traits of Zoe and is equally capable hunting and field trialing. We have had the pleasure of watching them both develop into wonderful companions for the home and field over the past 6 years. His owner, trainer, handler Dottie Maslonek is a great person who has shared her love and joy of owning and handling Springers with us for many years. Both have numerous dogs in their pedigree with AKC titles and awards, as well as "Hall of Fame" dogs. For these reasons we believe this litter will be exceptional.

Asher is a tenacious trial competitor who has placed in many United Field Trial Association events. He is also an AKC Master Hunter. Additionally he is a calm liver/white, field springer with a natural hunting abilities and endless drive. In typical Field Springer fashion he has a strong desire to work as a team when hunting regardless of the handler. We have watched Asher since he was a puppy and have planned this litter for many years. He is very bonded to people and is also a great house companion, which is another reason why we selected him for Zoe.




Dam: Windmill Hill's "Grace Under Fire" Zoe, SH

Zoe is from our first breeding between (dam) Crosswinds Tempest of Windmill Hill, MH and (sire) FC AFC Springville Buckingham Milo. Zoe combines the best of the Crosswinds lines from both her Dam and Sire. Tempest, bred by Kevin Battistoni, is from solid field trial lines and has a Master Hunter title. (FC/AFC Crosswinds Heir to Camelot "Pilot" (2010 2nd place NAC) x Crosswinds Warpaint "Player") Tempest's grandsire is NFC/FC/AFC/CFC Crosswinds Warpath "Zip" – Bird Dog Hall of Fame Inductee Milo has both his FC and AFC and finished in 2nd Place at the 2013 (NFC/FC/AFC/CFC Crosswinds Warpath x Springville Outrun the Morn) (NFC/FC/AFC Mountain Evens Raeve is Milo's maternal grandsire)

OFA - Hips Good, Elbows Normal

Eyes Certified RD Clear

DOB 06/26/14


Weight 34 - 36 Pounds

Zoe's story begins with her retrieving to hand at four week's old. (See video on this website.) The first in her litter to learn recall and find wings hidden in the yard, we knew she was destined for great things. Unfortunately, due to illness of her owner trainer, her original family could not keep her so she returned to us at about one year of age. We picked up where she had left off in her training and she never missed a beat.

Zoe, is what I call thorough when quartering in a field or woods. While not extremely fast, she has proven to be fast enough to run winged and running pheasants. She is a long-legged black and white female who graceful in her efforts in the field with a great nose and marking abilities. She excels at Upland Hunting, especially smaller birds such as quail and woodcock because of her exceptional nose. However, she is a proven Waterfowl hunter who hits the water without hesitation and has retrieved birds as large as Canadian geese. Zoe is very bonded to people and is a joy in the house – a classic home and hunter.

She has completed all the requirements of a Senior Hunter Advanced title, which has been applied for. As a versatile hunter she has experience with Pheasants, Grouse (to be honest, I have missed all the ones she has flushed), Chukars, Woodcock, Quail, Ducks & Geese. She has at least 200 Days Logged Hunting in Various Types Weather, Cover and Terrain in NH, CT, MA, RI, WV, NC, KY, and MD.

Our Two Phase Prepared Puppy Approach

Phase I - Puppy Pre-School

Most breeders and trainers will agree the most critical learning development period of a dog's life is the first six months of which, weeks 4 to 12 will lay the foundation for learning throughout a springer's life. This time is when a dog "learns how to learn." Therefore, to give our puppies long-term trainer the best opportunity to receive a dog that is ready to start training, our puppies will stay with us through week 12 to undergo extensive and intensive social learning experiences and individual preparatory training.




During those initial weeks the puppy will be part of a structured learning environment that will give the experienced trainer the best opportunity to apply positive reinforcement training once the springer starts its formal training. We will be giving our puppies thorough socialization and hunting situational exposure that will fully prepare them for their next phase of learning.




Phase II - Start-Up Summer Camp

After last Summer's success training some of our pups for their first hunting season, starting the Summer of 2018 we will offer to all our pups from this litter a three month intensive training program designed to get your pup ready for the Fall,




This program was so successful because we combine social learning and modeling they did as a pup with us, with a more formal training structure that develops basic skills such as quartering, flushing, retrieving, recall, walking at heel and line steadiness. Also, no one else will know your pup as well as we do. The Puppy Pre-School creates a long term bond that allows us to restart with only a small pack adaptation period.




These are both possible due to Tony's career in education that allows him the time to focus all his efforts on this goal during the summer. Because we are willing and able to provide this service, it is more likely that the likelihood for needing an electronic collar to train our puppies to meet high standards will be much less.




There is more detailed information on this at the bottom half of this page.
Our Puppy Placement Requirements: What "Home and Hunter" Means
These puppies are specially bred for life as a hunting companion and as a member of a family. These dogs are expected to live in a home, receive exceptional care and proper training. Therefore, we reserve the right to refuse a sale to any party who we believe intend to have the dog live life primarily in a kennel and be used primarily as a commercial working dog at a hunting preserve or solely as a breeding prospect among many other dogs who serve the same purpose. We understand that this is acceptable by many highly qualified and respected handlers, trainers and breeders in various birddog communities. But that is not why we are doing this.
Basically, it is our intent for these pups to be trained to hunt by you or someone who knows what they are doing, hunted at least occasionally (this means you would plan to go minimally 6 to 8 times in a 4 - 5 month season), when not hunting kept in sound health both physically and mentally with ongoing drills, healthy food, regular veterinary care and inoculations, and a safe, happy and social living environment. This means when not training or hunting, they are living in a home with people and possibly other dogs. Not left alone in a kennel outside day after day only having contact only when being fed and watered. Hence the term "Home and Hunter" we give to our line.
We realize no one can spend 24 - 7 at home. But when an owner or family is home, the dog is supposed to be in the home or in a large safe outdoor running space if the weather is not too hot or too cold. These dogs should never be chained or staked out or put in a run all day and all night, only to have contact when needed to work or breed or occasionally train. We crate ours when we are away earning a living, which these pups will be ready for when you pick them up. So you will be able to do this too. They will also have been conditioned to being in a run. We have a typical suburban lot that has a fenced yard where our dogs can romp, play, pee or poop, play on the porch or in the wading pool and even dig the occasional hole when we are not actively engaged in training or hunting. In our minds this is how a dog should live.
Our primary concern is about the life of the pup and making sure it will have an overall good life of a companion not a tool. Therefore, we adamantly believe "home and hunters" such as our pups should live in a home and be hunted. For these reasons we will not place a pup without first talking with prospective families to make sure of their intent and we will not ship a puppy. However, we can and have arranged for deliveries or transportation to their new forever homes. [For those who are into the field trial game, you can substitute the term "trial" for "hunt" and we would be fine with this as well.]
Remember, we will have been with them from the moment they are born until the moment a family takes them to their forever home. We will have cared for them, loved them and will cry over their leaving. Each one is precious to us. So this is why we insist on this.
In the "Apply & Stories" page you can read a short story that illustrates our experiences and our deep feelings from previous litters, which will tell you all you need to know about us and why we need to do this.
Photo Album Gallery Place Holder - Please wait while the Photo Album loads. If the album does not show, please refresh the page to try again.
"Our Prepared Puppy Approach...Four Elements and Two Phases"
Our prepared puppy approach begins by focusing on four critical elements of the initial individual and social learning, and modeling processes instinctive in a canine:
1. Developing positive learning motivation drivers through re-enforcing a puppy's internal desire to learn by displaying behaviors that will get them rewards. In our case the rewards will be treats, play and praise, or bird related fun.
2. Developing self-control so a puppy's ability to learn extends to inhibiting typical instinctive reactive responses. "Hup" is constantly used (at dinner, at the door, at play) to begin the development of the all-important "steadying." The "Short Pip" whistle command will follow as soon as "Hup" is learned.
3. Developing core behaviors so a puppy that is at "Hup" will remain calm and steady when tempted by distractions.
4. Developing socialization and adaptation skills by experiencing a number of new and strange environments in a positive and supportive manner. This leads to calm disposition desired in a companion hunter and the ability to adjust when they encounter a new environment be it with people, other dogs, terrain, weather or even game birds they are not familiar with hunting.
Phase I - Preparing Our Pups for their Forever Homes
It's all about the pups...We dedicate ourselves to them for next 12 weeks.
It is our life...it is as much who we are, as it is what we do.
It is what we call "Puppy Pre-School", which is included in the $1600.00 purchase price.
Photo Album Gallery Place Holder - Please wait while the Photo Album loads. If the album does not show, please refresh the page to try again.
"The Puppy Pre-School Training Process"
We are often asked what we do that is so different from other breeders / trainers over the 12 weeks we keep the pups. The results speak for them self. A pup who is socialized and conditioned for many different encounters with other dogs, people, terrain, water, machines and transportation types; a pup who is house and kennel trained; who is recalling to their name, whose instincts and drive have been initiated including finding, fetching, and swimming.
See the details below:
1. From birth until their eyes and ears open and they begin their first wobbly attempts at walking we conduct "early sensory conditioning" that is commonly used for developing law enforcement or military working dogs and service dogs. There are many websites that explain this process in detail.
2. Starting around week 2 interactive social learning in an 8 foot by 12 foot play pen area both indoors and outdoors. Exposure to household activity, neighborhood sounds, and everyday smells is provided through continuous interaction in a home and family environment.
3. Starting week 3 learning and exposure continues with focus on a larger world with challenges and obstacles such as steps, rugs, tile floors. The "No" command is introduced and peeing and pooping outside in a play pen is introduced and encouraged.
4. Starting week 4 providing daily exposure to and learning of:
Crate Training (when not in play pen or play ground)
Bathing Daily (maybe more than daily)
Loud noises (banging blocks while playing with bird wings)
Water (kiddy pool wading and shallow pond)
Boats (on land)
Recall ("here" command for a toy, treat or wing)
Obstacles and surfaces (decoys, cover plants, rocks, sand, gravel, brush)
Bird wings & retrieving bumpers with bird sents (for finding and carrying)
Distractions (such as children, elderly people, and other dogs of various types)
6. Starting week 5 developing basic home and self-control skills such as door and food waiting, non-counter surfing, peeing and pooping ONLY outside, quiet time and place, and sharing (honoring). Pup is introduced to the slip lead and the "Heel" and "Hup" commands. Also we begin use of the "Master's Voice" Gundog Condition System and continue it until finished week 9.
7. Starting week 6 developing basic hunting and retrieving instincts with "wing on a string" and retrieving thrown bumpers while pup is on a check cord. Also, introduction to quartering using "Hey Hey Hey" drills begins. Travel in small boats such as canoes and skiffs sometimes with outboards is introduced along with shoreline exploring and swimming in natural bodies of water. Walks in fields and woods, on and off leash are a daily activity.
8. Starting week 7 through week 12 we start advancing all the training at Pup's learning speed with an emphasis on making it fun and developing a mindset that the human in the pack is the boss. Retrieving, swimming for retrieves and finding sented bumpers with wings attached is a daily exercise. They also begin to get used to having a leash on them for more than a few seconds, although we don't try walking them at heel at this point.
This is all at no extra cost to a future owner. Also, all shots and required or recommended medical exams and certifications will be up-to-date through week 12.
Phase II - Preparing Our Pups for their First Season Afield
Once again, it's all about the pups...We dedicate ourselves to them for next 11 to 12 weeks of s
ummer to develop hunting behaviors, skills, and discipline in an instinctive and positive manner
It is what we call "Start-Up Summer Camp", which can be added for $2100 plus birds & food.
Photo Album Gallery Place Holder - Please wait while the Photo Album loads. If the album does not show, please refresh the page to try again.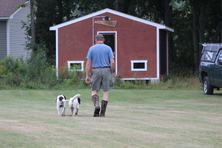 "The Start-Up Summer Camp Training Process"
This is only for OUR Pups. We do not accept other pups for this training program.
The question and ideas about "DIY" training of any pup are very much inline with ones about "home schooling" children. The ability to do either one well is based on available time and requisite resources. Both cannot be done well on a part time casual basis and without a dedicated resources of location and required supplies. So when considering how you will train your pup for the next important role they will have, answer this question honestly based on time, location, and supplies. Can I actually do this? In our case when we got Tempest (who started this whole journey for us) the truthful answer was no. So we found a trainer who did a wonderful job with her during her first summer with us. We called it "Bird Dog Camp" and Mike Wallace was her trainer.
1. Our Summer Camp takes place on Maryland's Eastern Shore of the Chesapeake Bay where we have thousands of acres woods, fields and water to use. We have everything we need including access to birds and three dogs that are already pros.
2. Because we developed a bond over the first twelve weeks of their life, and because we know each one so well and have stayed in close touch via social media with their new families, we are able to shorten the reintegration into a new pack process to no more than a week. This is also the reason why we do not accept pups that are not from our litters.
3. Starting around week 2 interactive social learning used for pack reintegration changes into purposeful learning. All pack/herd animals (including humans) learn best from watching and mimicking others.
4. Also, during this second week we start "audience" conditioning, where pups in training watch (yes they watch) "old pros" going through their paces in their porta-kennels. Their whining indicates when they want to try what they are watching, then we do more mimicking.
5. Training is done constantly and consistently. There are three formal training times each day, seven days a week for three months. Morning - Field Work; Mid Day - Water Work; Evening - Retrieving & Recall Drills. In between is "adventure" time, which includes rides in the boat or canoe, hikes through various terrain, exploring places on the bay, and quite time sitting and watching (practice for being still and attentive in a duck blind).
6. Starting week 5 learning and exposure continues with the addition of live bird training during morning field work. The goal here is to transition drills and practice that relates to birds that must be found, flushed and retrieved. Again, we do this in various locations with various terrain.

All of this carries on the foundational learning that your pup receives during their initial weeks of "Puppy Pre-School". The costs for this are $2100.00 plus birds and food. Also, we encourage our pups families to spend time up in the beautiful New Hampshire North Woods seeing what is being done, learning how to continue the training and hunt well with your pup once Summer is sadly over. A great vacation in an area where camping locations and rental cabins are available. In the evening we all do "camp fire time" and while we don't do s'mores, we have have been know to sing at the moon.
"Home Manners"
Additionally, all the pups begin their home training in earnest at four weeks. Over the next five weeks "pup" begins to develop the all important ability of "self control" needed to become "steady" in the field. Through learning to wait at "hup" to be released to eat or exit, "pup" is better ready to "hup" until released when flushing a bird. Also, crate training, quiet time, and travel exposure starts at week four. Of course typical training so "pup" knows to do his or her "business" outside and to keep away from kitchen tables and counters is integrated during formative weeks. They are also conditioned to be handled for grooming and medical inspection plus the all important vacuum cleaner encounters.
Yes, they do get bathed and groomed every day after 3 weeks.
So they will be used to this when they go home.
If you saw them eat you would know why!
"Puppy Play Ground"
This is where each puppy will start to "learn how to learn" and begin by becoming exposed to typical hunting situations. Through an early and extended process of exposure and structured social learning "pup" will be ready for their "big boy and girl pants" when it is time to go to their forever home and their long term trainer.
Each puppy will get equal time as an individual with Tony and as part of a pack exploring, examining, and playing among small scale hunting situations. Social modeling takes place with Pup being exposed to "Mom" doing basic commands. At this point Pup starts to learn about "Hup," "Heel." and "Here" first hand. Later Pup starts to connect "Here" with carrying a bird wing attached to a small dummy with sent. He or she gets to watch "Mom" find and retrieve birds and dummies and will try to copy what they see. At this point they are modeling the behaviors needed to be successful in the field. We do the same thing in the home, so they begin to model good in home behavior as well.
Social Learning Skills are Developed Just Like Kids in a Playground.